Career Prospects After Electronics & Telecommunication Engineering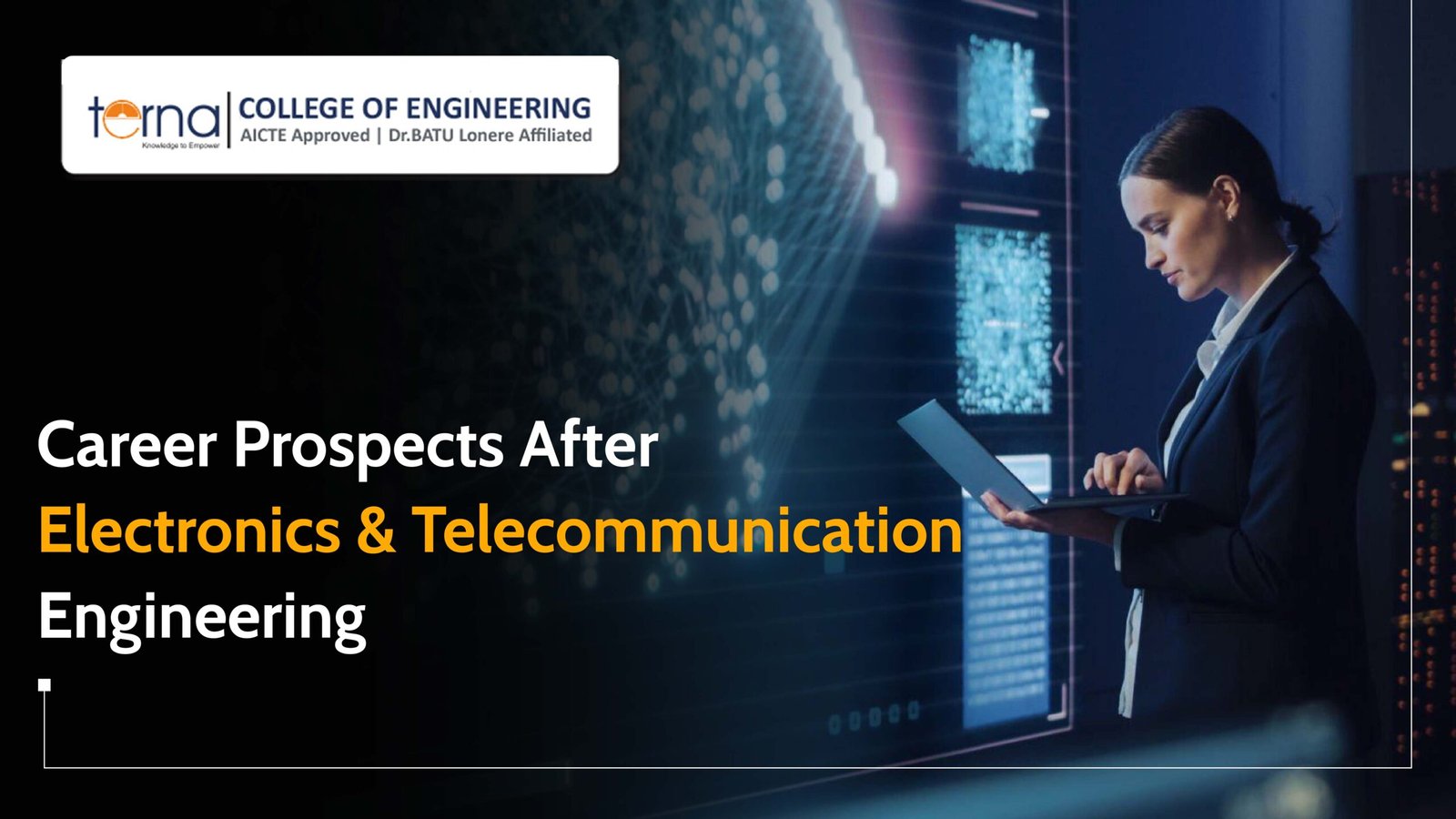 In the current digital era, the study of electronics & telecommunication engineering has advanced and grown significantly. In India, demand for engineers in the fields of electronics and telecommunications will witness a 7% year-on-year growth, according to the Bureau of Labour Statistics.
Given such a situation, are you looking for multiple career prospects in this field? If so, this blog can direct you towards investigating the potential career options for electronics and telecommunication engineering graduates in a country like India.
Learn about Electronics & Telecommunication Engineering
Designing and creating electronic technology products is the main focus of the electrical engineering subfield known as electronics and telecommunications engineering. In general, complex electronic systems and products are the focus of this modern engineering discipline that deals with planning, creating, producing, testing, and overseeing the manufacturing process. Additionally, the scope of electronics and telecommunication engineering enables people to work in a variety of industries, such as healthcare, media and communications, and software technology.
Electronics & Telecommunication Engineering Courses
As a diverse field, the electronics and telecommunications engineering branch permits specialists to construct many of the common items we use, like mobile phones, televisions, radios, personal computers, and WiFi networks. And, top-notch colleges like the Terna College of Engineering Osmanabad offer study plans in electronics and telecommunication at various levels.
Let us go through some specifics of those courses in the table below:
| | | |
| --- | --- | --- |
| | B.Tech in Electronics and Telecommunication Engineering | M.Tech in Electronics and Telecommunication Engineering |
| Level of Education | Undergraduate | Postgraduate |
| Course Duration | 4 years | 2 years |
| Availability of Seats | 60 | 18 |
| Minimum Requirement | Complete 10+2 level of education in the Science Stream | Obtain a B.Tech degree from a recognised university |
Is Electronics and Telecommunication a good branch?
In both its core and non-core domains, the Electronics and Telecommunication Engineering branch has excellent options. And, numerous telecommunications firms in India offer electronics and telecommunication engineering placement chances for graduates. Moreover, you can find fantastic work options inside several government organisations, including BHEL, DRDO, ISRO, and others.
This branch offers career opportunities for everyone, whether they are interested in electronics and communications engineering job profiles, pursuing research and development, joining the IT industry, pursuing management and consulting jobs, or even venturing into entrepreneurship. This industry as a whole is quite inventive and offers fascinating chances.
What is the future prospect of Electronics and Telecommunication Engineering?
A degree in electronics and telecommunications is now one of the most sought-after engineering specialties, because of the exciting EnTC job opportunities. Following completion of a degree in Electronics and Communication Engineering, you can pursue some of the following well-known career paths:
Electronics Engineer
An electronics engineer is in charge of creating designs for multiple electrical devices, including computers, large machinery, televisions, mobile phones, etc. They also highlight any technological flaws or mistakes faced by the production team.
Telecommunications Engineer
The main areas of focus for telecommunications engineers are the architecture, performance, security, and integration of all telecommunications tools and services. Additionally, a B Tech in electronics and telecommunication engineering enables these experts to develop communications systems, price estimates, and plans in line with client requirements and corporate standards, as well as deploy wireless networks utilising straightforward circuit designs.
System Control Engineer
In addition to doing research, these engineers supervise the setup of ICT (Information and Communications Technology) equipment. They also have a responsibility to design prototypes and test them. Mostly, they have to work with technology, software, hardware, electronics, and computers.
Desktop Support Engineer
They deal with different security risks including major infrastructure failures or power supply shortages to the IT systems of a small or large firm. Additionally, they offer in-person or remote assistance in computer setups, upgrades, software use, and maintenance.
Design Engineer
Design engineers are in charge of doing research, designing, and managing the production of new electrical and communication goods. Additionally, an M Tech in electronics and telecommunications enables these professionals to oversee the process of bringing their innovations to life and to increase productivity or performance.
Electronics Technician
Their responsibility is to evaluate the effectiveness of electronic gadgets and present the findings. In addition, they have to create electrical components, fix broken electronic systems, put them together, configure them, and update them.
Technical Director
They deal with numerous technical matters, including lights, stage props, and general building. Moreover, they efficiently and technically oversee the ongoing initiatives. Also, this is one of the high-profile jobs after B Tech in electronics and telecommunication, which calls for several years of expertise.
Field Test Engineer
A Field Test Engineer's primary responsibility is to test the products to identify any performance or maintenance problems. Also, to assess the quality of an upcoming product, these engineers work closely with hardware and software experts. They help with product development and design tasks.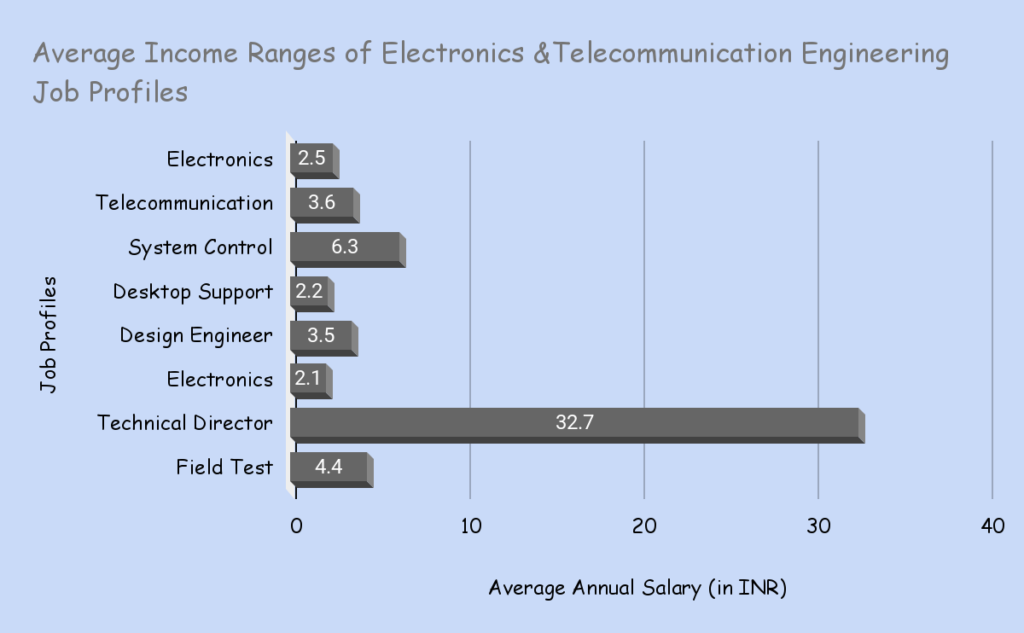 Final Words
As a whole, a career in electronics & telecommunication engineering offers excellent possibilities and a variety of options across numerous industries. Additionally, as technology continues to evolve, there will be a greater need for qualified experts in this industry, making electronics and telecommunication engineering a great career choice for those who are enthusiastic about new developments in technology.
FAQs
Is EnTC a good career?
Your alternatives are plentiful, which is the nicest thing about a career in electronics and telecommunication engineering. In some situations, electro-mechanical and production companies as well as core electronics, software, and telecom companies also hire such graduates.
What is the highest salary of electronics and telecommunication?
According to AmbitionBox.com, the maximum annual income for an electronics communication engineer is approximately INR 7.8 lakhs per year (65.0 thousand rupees per month).
What is the job of electronics and telecommunication?
Electronics and telecommunication engineers are responsible for the design, development, testing, and upkeep of telecommunications equipment and its parts. They also create integrated circuit components for telecommunications systems and apparatus.
Can I work abroad with an Electronics and Telecommunication Engineering degree?
Yes, the discipline of electronics and telecommunications engineering is relevant worldwide. And, depending on the specific job market and educational requirements, the skills and knowledge acquired in this field can lead to employment chances abroad.
How can networking benefit my EnTC career?
In any industry, including Electronics and Telecommunication Engineering, networking is essential for job advancement. Making connections with industry professionals, attending conferences, and using online resources can all lead to better job chances, partnerships, and staying updated with industry developments.